What is Breast Augmentation?
Breast augmentation is a surgical procedure that involves placing synthetic implants into the chest to enhance the volume and appearance of breasts.
The procedure, which is sought out by over 300,000 American women a year, is typically done to increase breast size or improve breast symmetry.
The outcome of breast augmentation varies based on the desires of each surgery candidate –some patients want a dramatic increase in breast size, while others opt to maintain a more natural appearance. The choice is yours and entirely customizable.
Two Types of Breast Implants
There are two types of implants available for women considering a breast augmentation. Each offers unique benefits and drawbacks and should be chosen based on the patient's surgery goals
Filled with a sterile salt water solution, saline implants are among the safest types of implants. If a saline implant ruptures or leaks, it will simply be absorbed into the body without harm.
These implants have a silicone outer shell that is filled with silicone gel. They come in different sizes and have either smooth or textured shells. Many women opt for soft silicone implants because of their natural look and feel.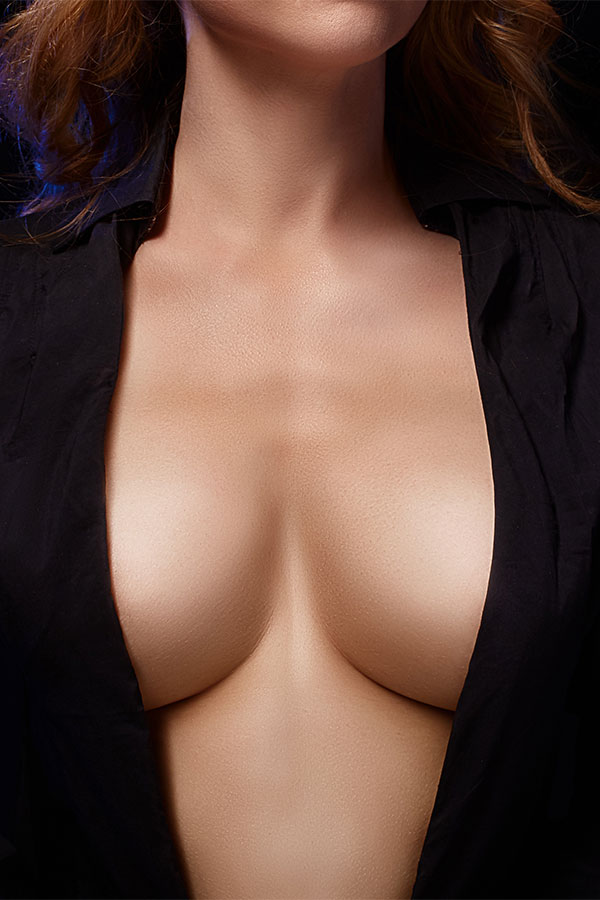 About Breast Augmentation
Breast augmentation is an outpatient procedure performed under general anesthesia. Incisions are made either around the areola (skin surrounding the nipple), underneath the breast (in the crease) or through the armpit. Each incision site is designed to minimize visible scarring.
Once the incision is made, the implant will be placed either over or under the chest muscles, an aspect of the procedure that you will discuss with your surgeon prior to the operation. Once the implants are in place, the incisions will be closed with sutures and/or tape. The procedure usually takes between one andthree hours to complete.
Frequently Asked Questions
What Are the Risks of Breast Augmentation?
Though breast augmentation is generally very safe, there are always risks to major surgery. Choosing the right surgeon and following all pre-and post-operative instructions will greatly reduce the risk of complications.
Some potential risks may include:
Bleeding
Infection
Anesthesia risks
Unfavorable scarring
Changes in sensation
Scar tissue around the implant
Seroma
Skin wrinkling over implant
Rupture or leakage
Will the Implants Last a Lifetime?
Although breast implants are manufactured to last many years, most implants do not last a lifetime and will eventually need to be replaced – but there is no set timeline for replacements. If the implants aren't causing issues, there is no need to replace them.


Patients with silicone implants may occasionally need to be monitored with routine tests to check for leaks or rupture, as patients often do not notice these issues occurring. Some implants have warranties, which your surgeon will explain once the implant is chosen.
Does My Lupus Disqualify Me From Getting Breast Implants?
Having lupus does not disqualify you from being able to get breast implants, but the risks of breast implant surgery may be higher for you as they are for anyone with an autoimmune disease or weakened immune system. Discuss this with your doctor to see what you can do to help minimize any risk.
Is Breastfeeding Possible Following Breast Augmentation?
Many women are able to successfully breastfeed following augmentation with implants, but it's difficult to predict the impact the surgery will have on breastfeeding for individual women. For women who are adamant about wanting to breastfeed, it is probably better to wait until after child-rearing to consider breast augmentation.
How Do I Choose My Cup Size?
The best cup size for you depends on a variety of factors including body frame and desired appearance. When you discuss your goals with your surgeon, you'll get a chance to "preview" different cup sizes before you make a decision.
Should I Consider a Breast Lift Along With Augmentation?
For women with drooping breasts (whether due to age, breastfeeding and pregnancy or other factors), breast augmentation with a breast lift will produce the best results. For younger women, an augmentation alone is generally enough.
Are You the Right Candidate for Breast Augmentation?
During your breast augmentation consultation, the doctor will also determine if you are a good candidate for breast augmentation. Good candidates for breast augmentation are women over the age of 18 (or 22 for those considering silicone implants) who have fully developed breasts and are dissatisfied by their bust shape, size or symmetry.

Women with aging breasts may also undergo augmentation, often in conjunction with a breast lift. Patients should be non-smokers, in good health, and understand the risks and benefits of the procedure. Patients should not only be physically healthy, but also have healthy expectations for the outcome of the surgery.
Breast Augmentation recovery
After undergoing a breast augmentation, patients will need to take a few days or more off from work depending on whether or not their occupation involves strenuous activity. Patients will need to refrain from vigorous exercise and lifting heavy objects for the first few weeks following surgery and should strictly follow surgeon guidelines for incision care and resuming everyday activities –this will help speed along a successful recovery.
Following the procedure, patients may also be fitted with compression or support garments to help with healing and reduce inflammation.Patients should expect some swelling and soreness for at least a month or two following surgery, with ease of symptoms as time goes on.